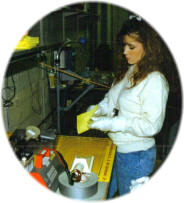 Environmental Staffing Services
Carl's Services understands the aspects of staffing Environmental workers. Our approach is simple:
We only use the highest quality personnel available in the industry. We are uniquely qualified to do this because the person staffing your job is not a recruiter trying to fill quotas. Ed Carl will personally select the candidates from Carl's Services exclusive database.
Our employee compensation is above average, which allows us to pick the star performers, and retain them in this competitive market.
Our employees are paid via direct deposit on a weekly basis, which enables them maximum flexibility in managing their cash flow.
The overall value of Carl's Services approach is a savings in turnover and additional manpower.
Carl's Services Exclusive Resume Database
Carl's Services exclusive resume database was developed by personally evaluating the performance of thousands of workers at Battelle Columbus Laboratory, ETTP-BNFL 3 Building D&D Project, and the Fernald Closure Project as well at several Electric Generating facilities over the last 16 years to the strictest of standards of performance criteria. This attention to detail assures that the staff proposed will be 'hand-picked'.
Labor Categories
The labor categories listed below is a sampling of the types of personnel we typically supply. Each category is in available in varying degrees of competence, such as Specialist, Engineer, Technician, Manager, Supervisor, Lead, Senior, Junior, and Entry Level.
ALARA Engineer
ANSI 3.1, ANSI 18.1 Qualified HP
Buyer
Certified Health Physicist
Certified Safety Professional
Characterization/Final Site Survey
Decontamination
Dosimetry
Equipment Operator
Final Survey
Gamma Spectrometry
Health & Safety (OSHA) Compliance
Health Physics Technician
I&C (Instrumentation & Calibration)
Industrial Hygienist
Industrial Safety
Instrumentation
Laborer
Non Destructive Assay
Operations
Procedure Writer
RSO
Environmental Control
Environmental Engineer
Environmental Waste/Shipping
Regulatory and Compliance
Respiratory Protection
Safety
Training
Waste Handler
Waste Management